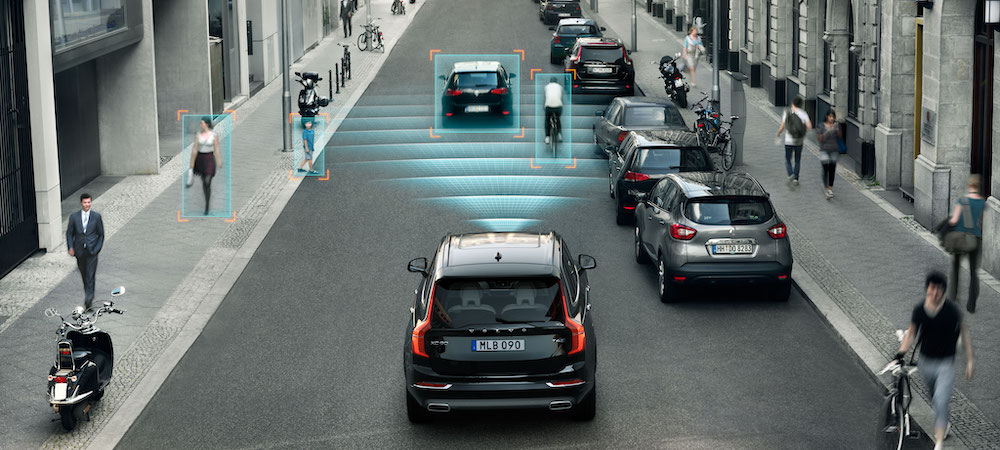 In 2014, Volvo took a bold move to expand its legacy of safety: it introduced City Safety. Now a part of IntelliSafe, City Safety is the suite of advanced technology features designed to reduce the risk of a Volvo colliding with a pedestrian or cyclist around Chicagoland, aiming for the automaker's goal that no one be killed or seriously injured in a Volvo by 2020.
Whether you drive in the city every day or you're a Schaumburg driver 99% of the time, Volvo City Safety is engineered to protect you and everyone else, and you'll find its advanced features on many of our new models at Patrick Volvo Cars.
Safety Built to Protect Pedestrians
It began with the debut of the Volvo XC90; City Safety arrived, naming all of the auto braking functions found on the new Volvo. "City Safety is one of the most advanced standard crash prevention offers you can find in a modern car. It addresses vehicles, cyclists and pedestrians in certain situations, day and night," explained Prof. Lotta Jakobsson, Senior Technical Specialist Safety at Volvo Cars Safety Centre.
City Safety can detect
Oncoming Vehicles: When the driver turns left, City Safety can detect oncoming vehicles -- including motorcycles and cyclists -- and brake automatically to avoid an accident or mitigate the potential damage.
Vehicles Moving the Same Direction: City Safety can respond quickly enough to bring the vehicle to a stop if operating at 30 mph or less, and it can help mitigate the damage and reduce the consequences of a collision at higher speeds.
Cyclists and Pedestrians: The City Safety system can even detect when cyclists and pedestrians cross the path of a car unnoticed or suddenly swerves in front of it, bringing you to a stop at low speeds and drastically slowing you down at higher speeds.
How Does Volvo City Safety Work?
While some automakers use either a camera or radar detection, Volvo City Safety uses both. The unit is mounted at the top of the windshield, behind the rearview mirror and barely noticeable to the driver.
Radar scans the road ahead to determine where objects are and any movement, first alerting the driver and then bring the vehicle to a stop if needed.
The camera uses high-sensitive megapixel imaging and advanced exposure control to confirm the presence of any obstacles, with radar determining their exact positioning.
Discover Safety at Patrick Volvo Cars
It's called Volvo City Safety, but you don't need to live in the city to benefit from it. Learn all about the latest Volvo safety features that set vehicles like the XC60 and S60 apart at Patrick Volvo Cars. View our current lineup or contact us to learn more.