Visit Patrick Volvo Cars in Schaumburg
If you've been seeking a dealership that prides itself on offering you a standout experience with a quality selection of vehicles from Volvo, and has been doing so in the Chicago area for four generations, we're the place for you. At Patrick Volvo Cars, we're part of the Patrick Dealer Group with our history dating back to 1907, with a tradition that is all about serving our guests.
When Hanley Dawson struck a deal with Henry Ford to sell used Ford models across the street from the Ford factory in Michigan is where we can trace our beginnings, and since there's been expansion to here in the greater Chicago area, and people know us as the Patrick Dealer Group, with multiple locations offering a wealth of different vehicle brands, including Volvo.
Browse Our Collection of Volvo Vehicles in the Chicago Area
In Our Schaumburg location, we have a wide range of new Volvo options. You're going to find that each one has the highest level of premium amenities and versatility available, as they combine the practical use of everyday driving with performance and comfort that provides you with a luxury vehicle experience. This includes our many different SUV options like the Volvo XC40, Volvo XC60 and Volvo XC90. Each one provides you with different sizes, and a wealth of safety features as Volvo has long been an innovator in providing standout safety to all drivers. Add in the quality technology, plus the standout performance which includes powerful engines, plus a comprehensive collection of hybrid engines so you can always be confident in the power under the hood.
There's also the likes of the Volvo S60 and S90 sedans while the V60 Cross Country and V90 Cross Country wagons and crossover options have plenty of appeal too. Whatever your choice might be, we're here to guide you through it all and ensure you find the right option. If you're looking for added savings on a Volvo, we can point you to our pre-owned Volvo collection too as Volvo vehicles are known for their ability to last, and with these choices you're getting standout quality, at a standout cost.
If you're more interested in environmental sustainability, look no further than the Volvo electric or plug-in hybrid lineup. The lineup consists of the only Volvo pure electric XC40 Recharge, the XC60 Recharge, XC90 Recharge, S60 Recharge and S90 Recharge and the V60 Recharge.
Keep Your Volvo Running with Quality Parts and Service
At Patrick Volvo Cars, we make sure Chicago Volvo drivers have their vehicles well looked after and maintained. We use Volvo parts to keep your vehicle integrity high, plus we're here to diagnose and repair any vehicle issues you might be having, while keeping your routine service up to date as well from oil changes to alignments and brake pad and rotor replacement. We make it simple to schedule service online and make sure while you wait you're given the time to work or relax in our guest lounge area.
Come See Why Patrick Volvo Cars is the Choice in Schaumburg
Not only will you find that throughout our history, the Patrick Dealer Group is committed to you and your vehicle, but here you'll find our team to be very knowledgeable about all our Volvo cars, as we're approachable, and make sure you have a no-hassle, comfortable car buying experience that puts your needs first. The process should be one that's exciting, and if you're a current Volvo driver, you should find a place that can help you keep those satisfaction levels high, which we do for those who utilize our service center.
We hope you'll be one of them. To learn more, come by and see us here in our Chicago area showroom today and we can get started soon.
Celebrating Patrick Volvo Cars' 30th Anniversary in 2021!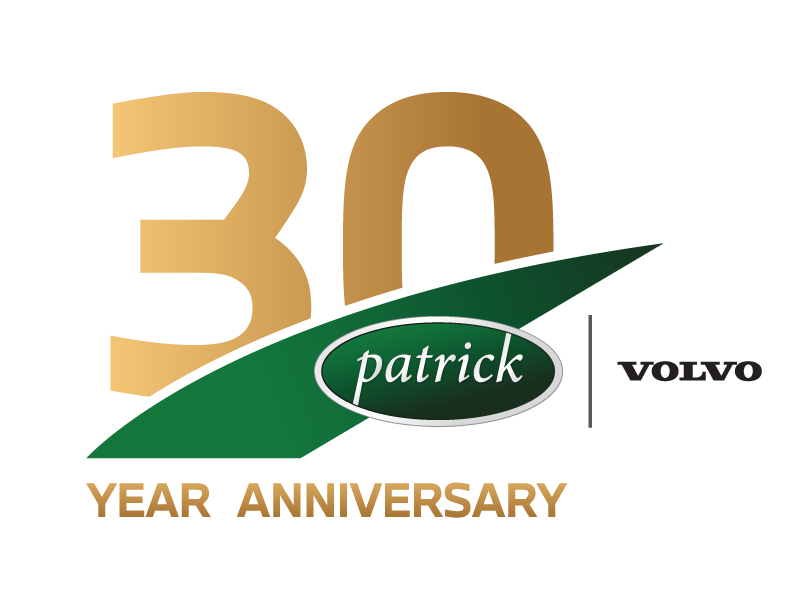 Patrick is celebrating 30 years with Volvo and with this milestone has brought about several milestones for the Patrick Dealer Group. In the over thirty years of partnership, the relationship between Patrick and Volvo has been strengthened into a tremendous relationship. Volvo has experienced ownership changes that were not only excellent for the brand but contributed to the success of Patrick and its employees as well. 
Our current president, Hanley Dawson IV, sat on the National Dealer Council for Volvo and his involvement has brought about a strong working relationship with the manufacturer management as well as regional management. Our Volvo store under the incredible leadership of our sales manager, Justin Rupp, has won the presidents award for the past five years and remains the #1 Dealer in the greater Chicagoland area. We are also very proud to claim the top salesman in the country, Babatola Akinola, whose skill with people is as unrivaled as his sales expertise. Come visit our store and find your Volvo!