New Volvo XC90 For Sale in Schaumburg, IL at Patrick Volvo Cars
Highly Customizable and Ready for Your Chicago Area Commutes - Meet the 2021 Volvo XC90
Whether it's seating for six people or space for seven, hybrid power or gas powered, the 2021 Volvo XC90 is an SUV that's capable of morphing to fit your needs and delivering topnotch quality every time. If you're in the market for a new luxury model for your family's daily driving needs, it's time to let Patrick Volvo Cars introduce you to the incredible largest model in our collection.
The Volvo XC90 first debuted on the roads in and around Schaumburg and Arlington Heights back in 2002. Since then, drivers across the country have turned to this luxuriously appointed SUV for all their driving needs, and the XC90 has continued to deliver the refined ride and well-crafted interior that are signature to world-class Volvo engineering. The 2021 models we currently have in stock are a continuation of the model's second generation, and we want to help you get to know them better and find your perfect fit from among our collection.
2021 XC90 Performance and Power
As with previous years, the Volvo XC90 for 2021 continues to be offered in a selection of powertrain options, with three exciting engines available. Most are available across all trim levels, making it easy to pick and choose to select the best options and personalize your ride in Des Plaines. The three engine options include:
Volvo T5 engine, a turbocharged 2.0-liter four-cylinder engine with 250 horsepower and 258 pound-feet of torque.
Volvo T6 engine, a version of the same 2.0-liter engine, but here it's both turbocharged and supercharged to produce 316 horsepower and 295 pound-feet of torque.
Volvo Recharge engine, the plug-in hybrid option that was previously known as the T8. For 2021, the hybrid option gets a new name, but continues to deliver a robust 400 horsepower and 472 pound-feet of torque from its plug-in powertrain that can also travel around 18 miles on just electricity alone.
2021 XC90 Design and Safety
The 2021 Volvo XC90 is the largest vehicle in the Volvo lineup. It has four doors and a cavernous cargo, and it comes standard with three rows of seating. You can personalize the interior seating to suit your specific needs, with accommodations for either six or seven people available depending on your choice.
Best of all, though, not only can the XC90 seat all the people you want to take with you on your daily drives around Hoffman Estates, it can also help keep you safe at the same time. Every XC90 in the collection comes with standard safety features that include:
Forward collision mitigation
Rear cross-traffic alert
Automatic emergency braking
Blind-spot monitoring
Lane-keeping assistance
Plus, additional features are available either in add-on options or as part of upper-level packages. Reach out to our team for the latest information on availability here in the Rolling Meadows area.
2021 XC90 Trim Levels
Already know which incredible powertrain option you want? Then it's time to select your perfect trim level fit, and we can help. The list includes three impeccable options, each of which has your bases covered for creature comforts, safety and more.
Volvo XC90 Momentum. The entry-level model, this SUV has all the luxury touches our customers are looking for, including standard panoramic sunroof, heated front seats, navigation, hands-free power liftgate, and more. On a side note, if you select the hybrid version of this model, the Momentum trim is now called the Inscription Expression. New name, but the incredible features list and high-end quality remain the same.
Volvo XC90 R-Design. The sporty member of the family, this SUV gets unique design elements, including black exterior trim details, and it gets additional amenities, such as a premium brand sound system and leather upholstery.
Volvo XC90 Inscription. Available only with the T6 or Recharged hybrid powertrains, this top-of-the-line model piles on the pampering, with additions such as heated and ventilated seats, and options such as massaging seats and an automated parking system.
Meet the 2021 Volvo XC90 in Schaumburg
There's a lot to know about the 2021 XC90 and we know you might have questions about how to go about personalizing your perfect fit, and we want to help. Reach out to our team on the phone, online, or stop by in person, and let us introduce you to the new XC90 and set you up with an appointment to test drive this outstanding model for yourself.
Volvo XC90 Model Year Specs
The Volvo XC90 is Spacious, Versatile and Reliable
If you live in the Schaumburg area and looking for a new SUV, then you're in luck. At Patrick Volvo Cars, we carry exceptional new and used vehicles that are ready to be driven to your desired destination. Our friendly staff is more than happy to help you discover a car that best fits your personality. We are excited to help you find a vehicle that will exceed all your expectations.
Whether you're a family looking for your new vacation vehicle, or a young professional looking for your adventure vehicle, we have a great model in mind. The all-new 2020 Volvo XC90 is something to take notice of with its top-of-the-line features that make for an exciting ride. You won't want to miss out on what the XC90 can do for you.
What's New for 2020?
There are new things to look forward to with the 2020 XC90 that makes for a better driving experience all around. The 12.3-inch digital driver display now comes standard and there is also a 6-passenger-seating configuration that is available for you and your friends. You'll love the new look with now a concave grille for a fresh look. You don't want to miss out on this brand-new model year.
Design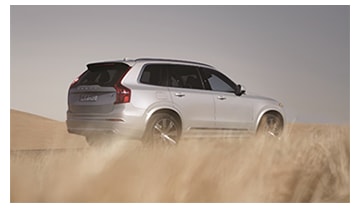 When you take your first glance at the XC90, you'll be overwhelmed with its refined strength and powerful, distinctive looks that will make heads turn. While driving on the roads of Arlington Heights, you'll stand out with the upright grille and strong shoulder line that portrays confidence. You can pick your exact style and design that meets your needs better with the available trims
The impressive Volvo XC90 Momentum
The sporty and stylish Volvo XC90 R-Design
The sophisticated Volvo XC90 Inscription
And the premium refined Volvo XC90 Excellence
When you step inside your Volvo XC90, you'll love the feeling of comfort and space provided to you when you travel outside of Des Plaines. You can enjoy the versatile cabin by being able to fold each backrest flat where the third row of the seats can be folded entirely from the rear tailgate at the touch of a button. You can make sure all your loose cargo is secure with a strap that holds your bags and equipment from sliding around.
The 2020 XC90 can accommodate six or seven seats while everyone sits in pure comfort. The driver and passenger seats have available massage and ventilation functions while the second and third-row seats are raised more for a better view while driving around Rolling Meadorws. There's an abundant amount of legroom whether you have the seats intact or configured into a different position.
Performance
Experience a thrill in every drive in your XC90 with impressive and strong powertrains that give you excellent response and handling. The engines provide outstanding performance where the T6 engine adds a supercharger for even more low-rev responses. The XC90 T8 e-AWD Plug-In Hybrid has effortless performance, combining a supercharged and turbocharged gasoline engine. It's paired with our smooth, automatic Geartronic transmission for fantastic acceleration.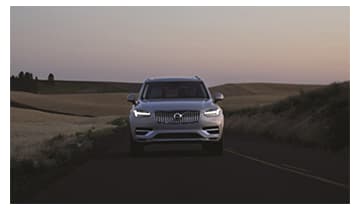 Technology
There's a way you can enjoy every drive to its full potential with its advanced technology implemented inside the cabin. The Bowers & Wilkins system works splendidly throughout the XC90 with 19 speakers, including a subwoofer that makes the sound more vibrant and more inviting when you play your favorite tunes for everyone to hear. You can also enjoy the three different room modes, such as Studio, Individual Stage, and Gothenburg Concert Hall to find your exact mood on your drive throughout Hoffman Estates.
It's essential that you always stay aware of your surroundings and your XC90 can help you stay on top of it. The City Safety technology uses radars and camera technology to help you be alert of any potential hazards, such as other vehicles, pedestrians, cyclists, and large objects. You can be warned ahead of time to avoid any collision that could occur.
Visit Us Today!
Stop by our dealership today, and test drive the Volvo XC90 to experience your full driving potential. We look forward to meeting you.
The 2019 Volvo XC90 Luxury SUV Available Near Chicago
The XC90 is the perfect family-friendly luxury SUV for Schaumburg and Chicago area drivers, with safety features covering every single possibility, like preventing a vehicle from unknowingly entering your blind spots, or sensing objects in the road and automatically applying brakes when necessary. Seating for seven is now standard for 2019, giving Arlington Heights drivers plenty of space for everyone to enjoy the XC90. The latest Drive-E technology from Volvo propels Des Plaines drivers forward for the smoothest drive you can imagine, while consuming low levels of fuel and reducing emissions. For even greater fuel economy, consider the T8 E-AWD Plug-in Hybrid, which combines a super and turbocharged Drive-E gasoline powertrain with an electric motor, delivering pulse-racing horsepower and torque.
The Power to Choose
T8 e-AWD Plug-in Hybrid
This powertrain option delivers an incredible drive with unbeatable efficiency that Hoffman Estates drivers will love, combining an ultra-high performance gas engine with an electric motor and pushing out a combined 400 hp/272-lb ft torque, all with the stability of AWD when necessary.
T6 AWD
Pushing out 316 hp/295 lb-ft of torque, this powertrain combines supercharger/turbocharger technology with responsive AWD and the ultra-smooth 8-speed Geartronic™ automatic transmission.
T5 FWD/AWD
This generous powertrain provides top-notch drivability, offering Schaumburg drivers up to 250 hp/ 258 lb-ft of torque for an excellent driving experience all-around. Together with the 8-speed Geartronic™ automatic transmission, you'll be in excellent control of your drive.
Trim Levels
Volvo XC90 Momentum | Style, Comfort, and Safety

Highlighted Features:

19-inch alloy wheels
Aluminum roof rails
Bright deco exterior trim
LED Headlights with automatic lever adjuster
Dual-visible tailpipes in chrome
Front grille high-gloss black with chrome frame
Rear park assist
Comfort seats with leatherette upholstery
Flame birch inlays
High-performance audio



  



Volvo XC90 R-Design | For the Thrill Seeker

Highlighted Features:

Most available features found on the Momentum, plus:
20-inch alloy wheels
bright integrated roof rails
R-Design Integrated tailpipes, front grille, and spoiler
12.3-inch Digital Driver Display
R-Design Perforated leather steering wheel
R-Design Contour Seats with Nubuck and Fine Nappa Leather Upholstery
Harman Kardon® Premium Audio



  



Volvo XC90 Inscription | For Drivers Who Want High Luxury Everyday

Highlighted Features

Most available features on the Momentum, plus:
21-inch alloy wheels
Bright deco exterior trim
Inception front grille
illuminated metal tread plates
Harmon Kardon® Premium 4K audio
Ambient interior lighting

 


Volvo XC90 Excellence | For the Ultimate First-Class Experience

Only available with seating for four passengers

Highlighted Features

Most available features on the Inception, plus:
21-inch 20-spoke Turbine Polished alloy wheels
Two heated, ventilated, massaging rear seats and increased rear legroom
Exclusive patterned Nappa leather seating
Rear folding tray tables and beverage cooler
Rear touchscreen

   


Intellisafe
The Volvo XC90 comes standard with plenty of safety features to protect you from collisions and accidents. Some highlighted features include Pilot Assist- semi-autonomous drive system with adaptive cruise control, Blind Spot Information System (BLIS), Rear Collision Warning, Lane Keeping Assist, City Safety™ (Vehicle detection, pedestrian and cyclist detection, autobrake and intersection, large animal or object detection) , and more.
Sensus Connect
Sensus Connect has countless features that make your drive the most fun you've ever had in a car. The highlighted features include the 9-inch Sensus touchscreen and 8"-inch Digital Driver Display (12.3-inch on the T6 and T8 models), Spotify + Pandora streaming, and more.